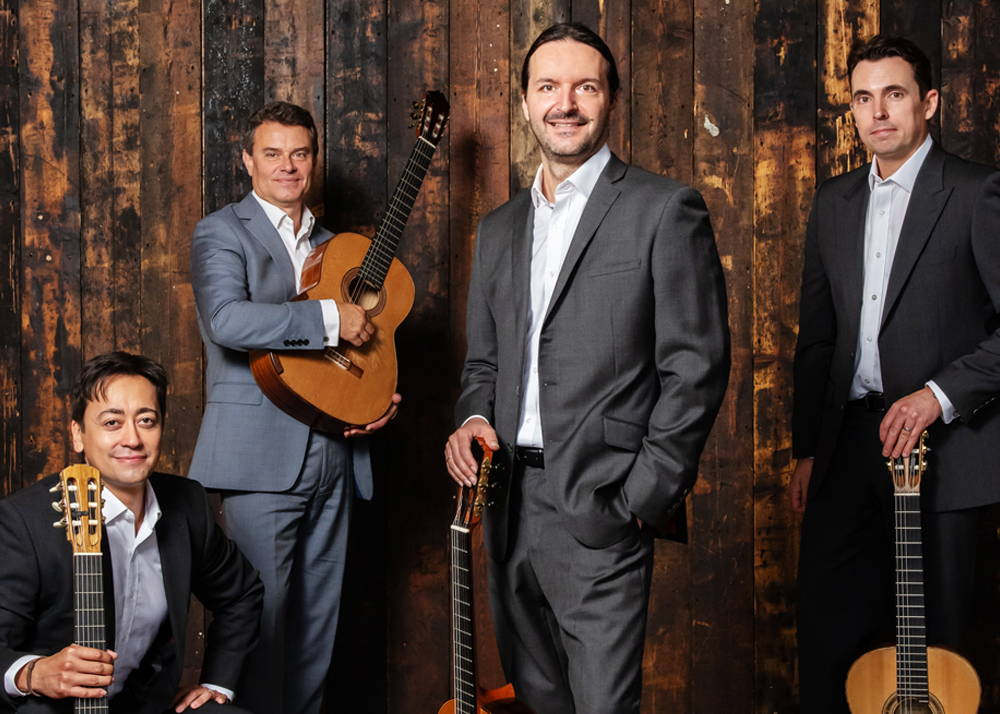 Aquarelle Guitar Quartet
Mike Baker
Vasilis Bessas
James Jervis
Craig Ogden
Recognised as one of the world's leading guitar quartets, the award-winning Aquarelle Guitar Quartet is a dynamic and innovative group known for its extraordinary ensemble in performance, expansive repertoire and ground-breaking work in developing the guitar quartet medium. The quartet has performed extensively both internationally and across the UK and their recordings for Chandos Records have been critically acclaimed. Read More
"All is performed with that same customary blend of high-octane virtuosity, relaxed lyricism, tonal richness and perfection of ensemble which has made the Aquarelle Guitar Quartet not merely one of the world's leading guitar ensembles but, for sheer imagination and musicality, equal to the finest string quartet going."
Gramophone Magazine
"with outstanding playing and infectious spirit, this is no mere niche guitar CD, but a luscious and lively general-appeal winner"
BBC Music Magazine
"if one guitar quartet can give a traditional string quartet a run for its money in terms of abundant technique and breath-taking artistry, it is the Aquarelle Guitar Quartet"
International Record Review
"This British ensemble seems incapable of playing with less than a glorious range of sound, perfect ensemble, and exquisite taste.  This is superb playing, and the music is ravishing."
American Record Guide
Recognised as one of the world's leading guitar quartets, the Aquarelle Guitar Quartet is a dynamic and innovative group known for its extraordinary ensemble in performance, expansive repertoire and ground-breaking work in developing the guitar quartet medium. Originally formed at the Royal Northern College of Music in 1999 under the guidance of Craig Ogden and Gordon Crosskey, the quartet continued their studies with guitarists including Sérgio Assad, Oscar Ghiglia and Scott Tennant. Their early successes included winning awards from the Musicians Benevolent Fund, Tillett Trust and Tunnell Trust.
In 2016 the Aquarelle Guitar Quartet was invited to perform at Classic FM Live at the Royal Albert Hall with the Academy of St. Martin in the Fields. The concert, which also featured Maxim Vengerov, Debbie Wiseman, Laura Wright and Wayne Marshall, was recorded for subsequent broadcast. The Aquarelle Guitar Quartet has performed in many other major concert halls in the UK, including Perth Concert Hall, Wigmore Hall, St. Martin-in-the-Fields and Bridgewater Hall. Their engagements have taken them throughout Europe, including Germany, Spain, Denmark, Greece, Estonia, Poland and Ireland. The ensemble made its debut in Asia in 2014 with a series of concerts in Seoul and since then they have regularly returned, most recently with a tour of South Korea in 2022. The AGQ is dedicated to presenting music from around the globe, spanning the period from the renaissance right through to the present day. Alongside their own arrangements of music from various genres, including works by Gismonti, Mussorgsky, Rossini, and film music composer Ryuichi Sakamoto, the quartet has been invited to perform the work of many established international composers, including Carlos Rafael Rivera (U.S.A), Phillip Houghton (Australia), Stephen Dodgson (U.K) and Nikita Koshkin (Russia). In 2009 the group commissioned Brazilian composer Clarice Assad to write a piece for their debut CD, and her work 'Danças Nativas' was nominated for a Latin Grammy® award for best classical composition.
The Aquarelle Guitar Quartet has been signed exclusively to Chandos Records since 2009, during which time they have recorded 5 critically acclaimed albums: 'Spirit of Brazil' (March 2009), 'Dances' (June 2010), 'Final Cut' (June 2012), 'Cuatro' (Nov 2013) and 'Aspects' (Nov 2016). BBC Music Magazine awarded 'Spirit of Brazil' five stars for both performance and recording and subsequent releases have received excellent reviews from the press ranging from International Record Guide, American Record Guide, Classical Guitar Magazine through to CD of the Week on Classic FM and Editor's Choice in Gramophone Magazine.
Recognising the responsibility artists have to impart some of their knowledge and experience to future generations, AGQ embraces every opportunity to be involved in education work. As former members of Yehudi Menuhin's outreach scheme 'Live Music Now' they are equipped with experience and expertise in providing educational recitals to a wide range of audiences. They all enjoy teaching posts in the north-west of England and the quartet regularly gives masterclasses to guitarists and chamber musicians, ranging from enthusiastic young players to aspiring professionals, including students at the RNCM and Royal Conservatoire of Scotland.
In 2023, Craig Ogden joined the group to replace Rory Russell who had decided to step back from the quartet after 17 years. As well as being a world-renowned soloist, Craig is an exceptional chamber musician and the quartet is looking forward to new projects including an exciting recording collaboration with Clarice Assad of music from Latin America and a supporting tour.