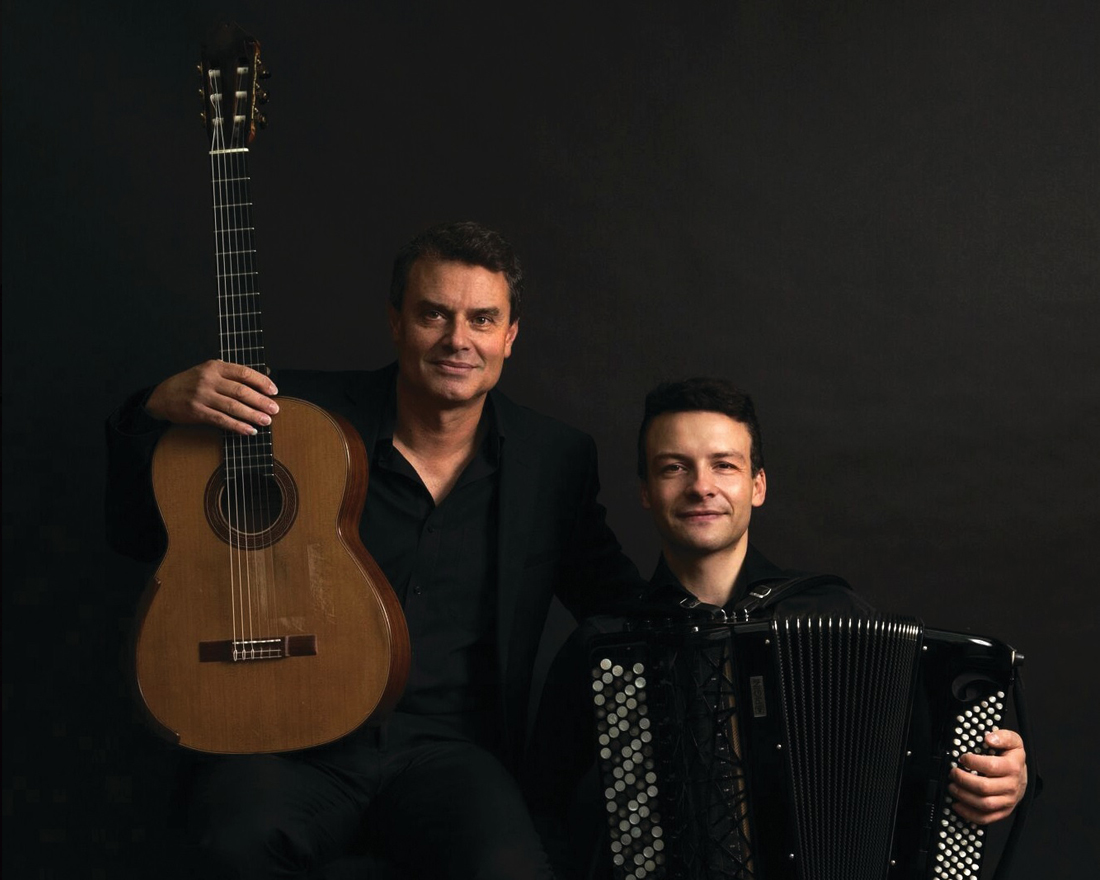 Craig Ogden & Miloš Milivojević
Craig Ogden Classical Guitar
Miloš Milivojević Classical Accordion
"A worthy successor to Julian Bream"
BBC Music Magazine
"A hurricane of imaginative invention"
Hilary Finch, The Times
---
One of the most acclaimed classical guitarists of his generation, Craig Ogden teams up with the award-winning classical accordionist Miloš Milivojević in a unique duo showcasing stunning arrangements of classical compositions by composers including Vivaldi, Scarlatti and Piazzolla. Both virtuosos of their instrument with international careers, their duo partnership reveals compelling playing and their relaxed concert presentation has made them firm favourites with audiences. Read More
Accordion & Guitar
Concerto in D RV.93 Antonio Vivaldi
Felix Tango Matteo Falloni
Pirotango
Solo Accordion
Five Views on Country Gulag Viktor Vlasov
Solo Guitar
Sonata K.380 Domenico Scarlatti
Fantasie Dramatique "Le Depart", Op.31 Napoléon Coste
Vals Op.8 no.4 Agustín Barrios Mangoré
Accordion & Guitar
Kontroverse Jan Truhlar
España (Tango, Malagueña) Isaac Albeniz
Introduction and Fandango Luigi Boccherini
Libertango Piazzolla
"The return of Craig Ogden, the well-known guitarist, to Ilkley Concert Club has been long awaited. For last Wednesday's concert he appeared alongside Miloš Milivojević, classical accordionist. The programme started with an arrangement for both instruments of Vivaldi's lute concerto in D, often heard on the guitar. The accordion accompaniment worked better in the sustained chords beneath the lyrical solo in the slow movement than for the outer fast movements, where one missed the attack of Vivaldi's strings. The following three pieces in tango style by contemporary Italian composer, Matteo Falloni, allowed both instruments to show their strengths, Miloš Milivojević producing beautifully soft sustained tone in the melancholy central piece, Jewel.
After an excellent informative talk about his instrument, Miloš performed a solo suite by Viktor Vlasov which brilliantly illustrated some aspects of life in the Soviet Gulag of the 1930s-50s. To say that we were wowed by the virtuosity of the playing would be a complete understatement!
Virtuosi of the Guitar and Accordion
Craig Ogden & Miloš Milivojević at the King's Hall, Ilkley
6th November 2019
"At half time and at the end of the concert, the audience were audibly very happy. The rapport between the artists was a delight. "
Ian Roberts, Live at St. Wilfrid's
"Craig's masterly playing and humorous introductions to the audience are well known to us. But as I think Chris Skidmore said to you, in 74 years we have never had an accordionist at Ilkley, and I don't believe there could be a more wonderful exponent on that instrument than Milos. His duo playing with Craig was supremely sensitive and his solo performance of Vlasov's Five Views on Gulag State quite phenomenal. The audience was utterly gripped by the intensity of the playing and the extraordinary variety of sounds that Milos managed to draw out of the instrument."
Sarah L. Warnes, Concert Season Planner, Ilkley Concert Club
A CLASSICAL accordionist? What on earth..?
More than 200 people came to this Richmondshire Concert on a dismal November evening to find out. The accordionist was Miloš Milivojević, his performing partner the stellar guitarist Craig Ogden. Over the course of the evening, they took the audience from slight uncertainty through to rapt silence to rapturous applause.
Any slight uncertainty was quickly dispelled by a Vivaldi lute concerto, which felt so very right that it could have been written with the guitar-accordion combination in mind. That was followed by three modern tangos by Matteo Falloni.
Miloš Milivojević & Craig Ogden
Influence Church, Richmond
Richmondshire Concerts, 23 November 2019
Ben Trovato, Darlington & Stockton Times
One of the most acclaimed classical guitarists of his generation, Craig Ogden teams up with the award-winning classical accordionist Miloš Milivojević in a unique duo showcasing stunning arrangements of classical compositions by composers including Vivaldi, Scarlatti and Piazzolla. Both virtuosos of their instrument with international careers, their duo partnership reveals compelling playing and their relaxed concert presentation has made them firm favourites with audiences.  Download
Read more about them below