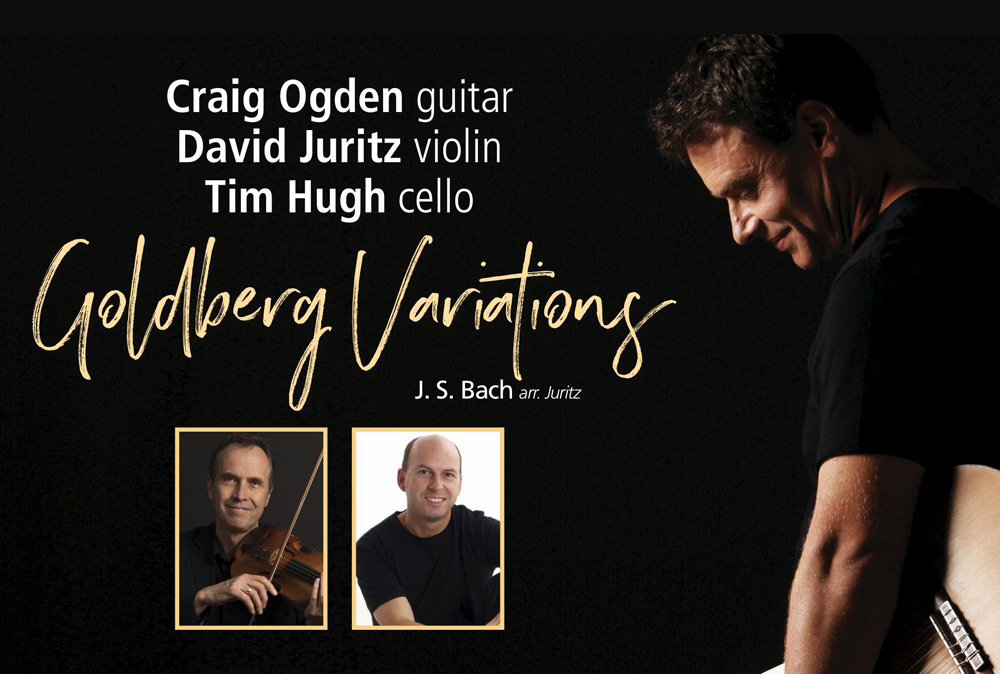 J. S. Bach arr. Juritz
Goldberg Variations, BWV 988
Craig Ogden Guitar
David Juritz Violin
Tim Hugh Cello
"... a surprising and beautifully executed rendition of the work by violinist David Juritz … detailed and gracious, but also sweeping and noble, and full of "air" and warmth."
Stuart Millson, ENDNOTES, October 2019
---
Violinist, David Juritz, transcribed Bach's masterpiece for Craig Ogden, widely acknowledged as one of the leading guitarists of his generation. They will be joined by the internationally renowned cellist, Tim Hugh, winner of the Tchaikovsky Competition and principal cellist of the Orchestra of the Royal Opera House. Read More
PROGRAMME
Bach's variations, published in 1741, take their name from the harpsichordist, Johann Gottlieb Goldberg, who was their first performer. Bach presented a copy of the variations to Goldberg's employer, an insomniac nobleman, who instructed the musician to play them while he tried to get to sleep. 'Music historians haven't told us whether they were an effective sedative or not but it's hard to imagine that anyone, after listening to a work of such exquisite beauty, wouldn't be even wider awake by the end.' says Juritz.
Bach wrote the variations for a harpsichord with two keyboards although they are now more often performed on the piano where they present formidable technical challenges with hands crossing and fingers colliding on the modern instrument's single keyboard. Even though a long tradition exists of arranging and re-orchestrating Bach's music, Juritz, approached his own transcription with some trepidation; 'Reproducing Bach's extraordinary counterpoint places makes for some pretty uncompromising demands on the performers, although the varied tonal colours of the three instruments allow the musical lines to emerge with real clarity. '
Bach's Goldberg Variations, BWV 988 – dating from 1741 – is a work often referred to as one of the greatest achievements in all music: an opening 'aria', a statement, of the most subtle, contemplative, mellow beauty, leading to a journey of miraculous contrast and complexity through 30 variations; and then followed by a noble summation and restatement of the opening theme.
The variations are usually heard in piano or harpsichord form. One thinks of pianist Glenn Gould's two recorded versions, especially his slow-paced CBS account from 1981 – or harpsichordist Kenneth Gilbert's authentically baroque account on the Harmonia Mundi label, but at the recent Music@Malling festival in Kent, the audience at St. Mary's Abbey were treated to a surprising and beautifully executed rendition of the work...
Arranged by David Juritz, who provided a brief but informative account of the work and his realisation of it, the trio succeeded in turning the work into what could almost be described as an hour-long Brandenburg Concerto – with the guitar part assuming the role and sound of a lute accompaniment…...The modern stone interior of the performance space at St. Mary's – uncluttered and simple, with natural light, but also a feeling of inwardness – gave a rich but never over-reverberant tone to the sounds of the instruments; so that what we heard was detailed and gracious, but also sweeping and noble, and full of "air" and warmth….One hopes that Juritz's "curating" of a great classic will appear on CD.
Stuart Millson, ENDNOTES, Music@Malling, October 2019
Violinist, David Juritz, transcribed Bach's masterpiece for Craig Ogden, widely acknowledged as one of the leading guitarists of his generation. They will be joined by the internationally renowned cellist, Tim Hugh, winner of the Tchaikovsky Competition and principal cellist of the Orchestra of the Royal Opera House.
Read more about the trio below
Australian born guitarist Craig Ogden is one of the most exciting artists of his generation. He studied guitar from the age of seven and percussion from the age of thirteen. He is the youngest instrumentalist to have received a Fellowship Award from the Royal Northern College of Music in Manchester.
One of the UK's most recorded guitarists, his recordings for Virgin/EMI, Chandos, Nimbus, Hyperion, Sony and Classic FM have received wide acclaim. Craig's five Classic FM albums all shot straight to No.1 in the UK classical chart and he is one of Classic FM's most played artists.
Craig Ogden has performed concertos with all the main UK orchestras plus many abroad. He regularly appears as soloist and chamber musician at major venues and collaborates with the UK's top artists and ensembles. Craig enjoys performing new works for guitar and gave the world premiere of a concerto written for him by Andy Scott with the Northern Chamber Orchestra in Manchester in November 2017, followed by the Australian premiere in Perth in September 2018. He gave the world premiere of 'Il Filo', a double concerto for guitar and accordion by David Gordon with Miloš Milivojević in summer 2019 and will give the world premiere of a concerto by David Knotts with the BBC Concert Orchestra at the Queen Elizabeth Hall, London in January 2021 which will be recorded by BBC Radio 3. He has presented programmes on BBC Radio 3, BBC Northern Ireland and ABC Classic FM (Australia).
Craig Ogden is Head of Guitar at the Royal Northern College of Music in Manchester, Adjunct Fellow of the University of Western Australia, Associate Artist of The Bridgewater Hall in Manchester, Curator of Craig Ogden's Guitar Weekend at The Bridgewater Hall, Director of the Dean & Chadlington Summer Music Festival and Visiting Musician at Oriel College, University of Oxford.
David Juritz was born in Cape Town, South Africa, and began playing the violin at the age of five. He was awarded an Associated Board Scholarship to the Royal College of Music where he won the RCM's top award, the Tagore Gold Medal.
On leaving the RCM, he joined English Chamber Orchestra before being appointed leader of the London Mozart Players, a position he held until 2010. He made many appearances as soloist and director with the LMP, including his debut at the 2006 BBC Promenade Concerts.
In October 2019 he was invited to direct the English Chamber Orchestra at their debut in the Elbphilharmonie in Hamburg. Other performances have included appearances as soloist and director at the Tonhalle in Zurich, performances of the Beethoven and Brahms violin concertos in Tokyo, the Tchaikovsky concerto with the London Concert Orchestra at the Barbican, solos with the English Chamber and City of Birmingham orchestras, and the world premiere of Tales from South America, a tango concerto written for him by Cecilia McDowall. He has also led the orchestra on many film soundtracks including Long Walk to Freedom, The Theory of Everything and Last King of Scotland.
David's recording of the Vivaldi Four Seasons, re-released by Nimbus Alliance in 2012, was hailed by critics as one of the finest interpretations of that much-recorded work. David's recording of Bach's Sonatas and Partitas for Violin Solo, released on the same label in May 2011, was also warmly received.
In 2005, David took on the role of Director of the Burton Bradstock Festival in Dorset, where he presents unique programmes to capacity audiences and has developed a real musical community.
During a five-month sabbatical in 2007, David busked around the world. On the 60,000 mile journey through 50 cities in 24 countries on six continents, he paid for the entire journey with his busking earnings by playing Bach on the streets. He used the trip to raise funds for music education projects for disadvantaged children in developing countries. He remains deeply committed to encouraging young musicians in the developing world working in Kurdistan with young musicians from the National Youth Orchestra of Iraq and students at Xiquitsi in Maputo, Mozambique.
David is in demand as a chamber music artist and performs regularly with the London Tango Quintet, London Tango Trio, Craig Ogden (guitar), Miloš Milivojević (accordion), the Rasumovsky Ensemble, and the Soloists of London. He is also a prolific arranger and has arranged many substantial works for a wide variety of instrumental combinations, including music by Couperin and Debussy for the London Tango Trio and most recently, Bach's Goldberg Variations for guitar, violin and cello which he performs with Craig Ogden and Tim Hugh. David is regularly invited to perform on film and television soundtracks and his fleeting on-screen appearances include the award-winning drama series Downton Abbey and the film Youth starring Michael Caine.
David plays on a violin made by J.B. Guadagnini in Piacenza in 1748.
Tim studied at Yale with Aldo Parisot and afterwards with Wiliam Pleeth and Jaqueline du Pre whilst gaining an MA in Medicine and Anthropology at St John's College, Cambridge. His developing interest in contemporary music led to performances of Boulez' Messagesquisse with the BBC Symphony Orchestra and London Symphony Orchestra, Dutilleux's Tout un Monde Lontain, Britten's Cello Symphony and Hugh Wood's cello concerto at the BBC Proms. He has recorded the three Britten Suites twice (Hyperion and Naxos) the latter being a live performance and other recordings include concertos by Walton, Bliss, Finzi, Boccherini, Holst and CPE Bach. The Bach Suites released in 2006 on LSO iTunes were reviewed by BBC music magazine as "the best performance on a modern cello". With Haitink he recorded Brahms Double and Beethoven Triple concertos together with Nikolitch and Lars Vogt and he is returning to Beethoven Triple with Tasmin Little and Howard Shelley and recording it again as part of Howard's Beethoven cycle.
As chamber musician, Tim plays with the Nash ensemble regularly and has recorded a large part of the piano trio repertoire with the Solomon Trio. Earlier recordings include Fauré piano quartets as a member of Domus and numerous recital discs, the latest being his album "Hands on Heart" in memory of his brother Steve featuring a live, Wigmore Hall performance of the Kodály Sonata on NAIM Records.
As solo cellist with the London Symphony Orchestra, Tim performed Elgar, Strauss Don Quixote, Shostakovich, Haydn, Dvorak, Messiaen and Walton concertos and, at the Barbican, he has given recitals with André Previn, Hélène Grimaud, Nikolai Znaider and Andrew Marriner. Recently he toured the UK playing Elgar and Brahms concertos with Moscow Philharmonic and in Spain with the LSO at Alhambra Palace, Granada and Almeria, Saint-Saëns concerto with Pamplona Symphony , Tabakov and Saygun concertos in Ankara, Turkey and Rousse Bulgaria, as well as recitals in Beirut, Dubai, New York and Portugal. His recordings of the Saygun and Tabakov concertos with the Ankara Symphony Orchestra have just been released.
With Maestro Valery Gergiev he gave the UK premiere of Tischenko Cello Concerto with the LSO at the Barbican and also premiered it with him at Berliner Philharmonie and the Rotterdam Festival. Tim plays on a cello by Zanoli.
Presenting