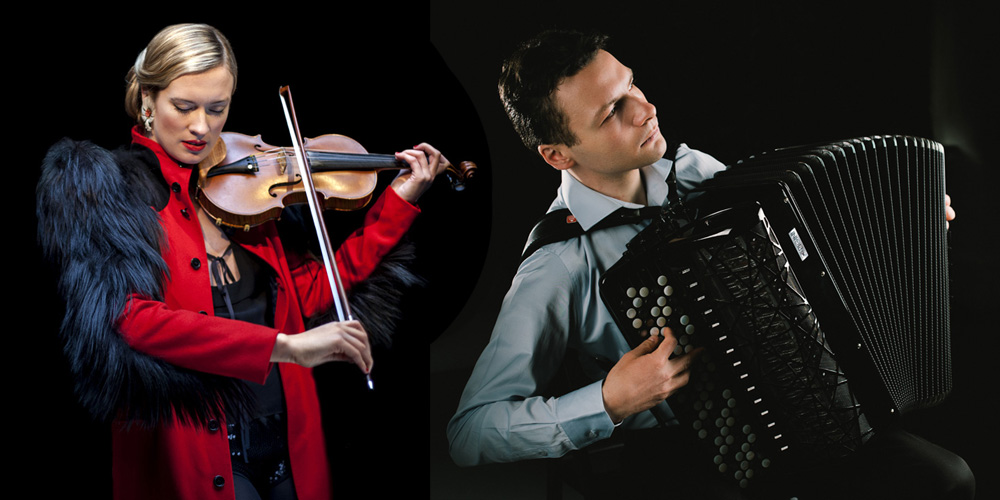 "A Musical Portrait of Coco Chanel & Igor Stravinsky"
Lizzie Ball Violin/Vocalist
Miloš Milivojević Accordion
"A superb and thrilling performance throughout using music, words, visuals, and fashion to paint a fascinating picture of this historic time."
Music at Malling Festival 2019
---
Concert Description
The relationship between Coco Chanel and Igor Stravinsky is one that is discussed as a constant source of fascination by historians, music/fashion experts, and more. The context of early 20th century Paris within which both artists lived, is of course regarded as one of the most exciting periods of creative output in the European artistic world.
Following on from Lizzie's fascinating and acclaimed audio-visual production on the life of Frida Kahlo last year, Lizzie presents the next chapter in the series, a concert which explores this fascinating part of musical and fashion history. Together with virtuoso accordionist Miloš Milivojević, they will perform music to include arrangements by the composer himself of The Firebird Ballet, Suite Italienne, whilst discussing the influence of Chanel, Stravinsky and other contemporaries of the vibrant Parisian Left Bank artistic scene of the early/mid 20th Century.
PROGRAMME
The programme will include:
Suite Italienne 1920 (from Pulcinella) - Stravinsky arr. Lizzie and Miloš
Excerpts from The Firebird (1910) - Stravinsky
Prelude and Rondo of the Princesses (originally arranged by Samuel Dushkin for violin and piano )
Finale main theme arr. Lizzie and Milos
Tango por Claude - Richard Galliano
La Vie En Rose - Louiguy/Chavigny/Piaf
Piece en forme de Habanera - Maurice Ravel (originally arranged for voice & piano)
El Salon Mexico - Aaron Copland arr. James Pearson for violin & accordion
Movements from Gulag - Viktor Vlasov  (solo accordion)
"A seamless exercise in musical enchantment"
The Independent
"Lizzie Ball has proved herself not only to be a first rate musician but also a brilliant producer who really knows how to give the audience huge pleasure"
Joyce Hytner OBE, Royal Court Theatre
"A hurricane of imaginative invention"
Hilary Finch, The Times
"Milivojević's artistry on the humble button accordion took the breath away"
Michael Church, The Independent
Miloš Milivojević - Debut Solo CD - Accord for Life - Nimbus Records 2018
Lizzie Ball violin/vocalist
"Lizzie Ball lit the place on fire with her solos" San Francisco Chronicle
Named as one of the most 50 inspirational women of 2018 by the Daily Mail 'Femail at 50' feature, and awarded an Honorary Degree from the University of Derby for her services and contribution to classical music, Cambridge Graduate and RCM/Guildhall School of Music Scholar Lizzie is recognised increasingly for her refreshing and unique approach to classical music performance. Her creation of Classical Kicks, a unique brand of energetic reinvigorated classical music shows at Ronnie Scott's Jazz Club in London, has seen continued success. She is also known for her solo violin/vocal collaborations with numerous artists such as British violin icon Nigel Kennedy (as a soloist with him and leader of his Orchestra of Life for 8 years), and rock/pop legends Jeff Beck and Brian Wilson (as a featured frontline band member), and more recently as lead violin for Ariana Grande (leading an all- female orchestra for her Live at the BBC Film), Liam Gallagher (leading a much anticipated MTV Unplugged TV Recording), and Hugh Jackman (leading his recent UK/Europe stadium tour).
Performance highlights include headlining at Madison Square Garden NY for Eric Clapton's Crossroads Guitar Festival, several critically acclaimed US-wide tours, and directing the historical Palestine Prom for BBC Proms 2013 in the Royal Albert Hall. Her new co-production of a theatricalised concert with Producer/Writer/Director Emily Blacksell 'Corrido-A Ballad for the Brave' is a musical and visual storytelling of the life and times of Mexican artist and icon Frida Kahlo. It  received widespread acclaim at its premiere alongside the V and A Museum's celebrated Frida Kahlo 'Making Her Self Up' exhibition in November 2018. Future projects include further collaboration with the University of Derby, numerous concerts with a wonderful team of musicians including Music at Malling Festival, and a stadium tour of Lithuania in December 2019 as a guest soloist for acclaimed artist Martynas Levickis and his Cinematic Classics Programme, as well as solo tours to Japan and the Caribbean in 2020 and a performance in Carnegie Hall in May 2020.
Miloš Milivojević accordion
Award-winning accordionist Miloš Milivojević was born in Serbia. His versatility as a musician performing different genres including classical, tango and world music, has ensured he is in demand internationally.
Miloš studied in Kragujevac and won international competitions in Italy, Denmark, France and Germany before coming to London to study at the Royal Academy of Music. Whilst there, he won the prestigious Derek Butler Prize and began his mission to promote the accordion as an instrument in the concert hall. He has since given dozens of world premieres as well as first UK performances of works by composers including Howard Skempton, Ben Foskett, Elena Firsova and Luciano Berio.
Miloš's diverse musical commitments as a soloist, chamber musician and regular member of the London Tango Quintet, Kosmos Ensemble, Accord Duo and Balkan group Paprika have taken him to festivals across the UK, Russia, Slovenia, Hungary, Italy, Iceland, Serbia, Montenegro, Spain, the Canary Islands, Malta, Australia and New Zealand. His repertoire ranges from contemporary music with the London Sinfonietta to tangos on Strictly Come Dancing.
PRESENTED BY