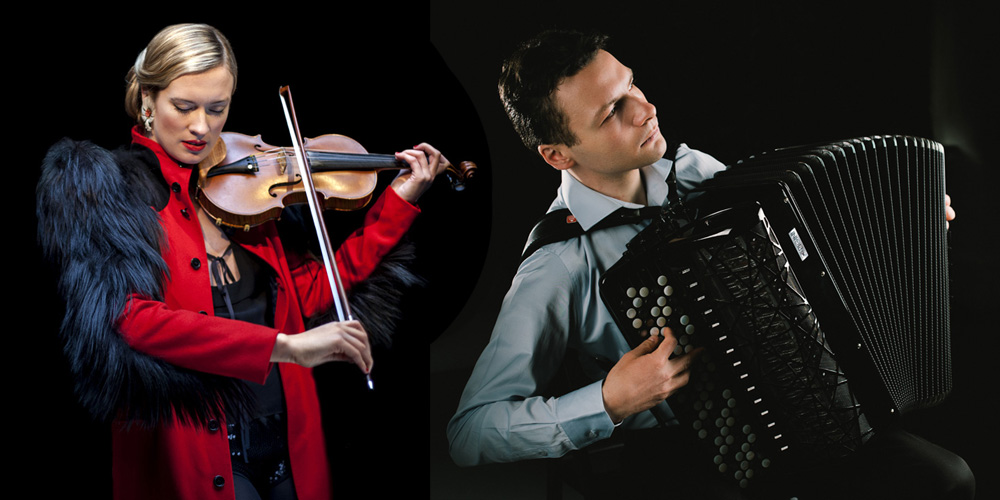 "A Musical Portrait of Coco Chanel & Igor Stravinsky"
Lizzie Ball Violin/Vocalist
Miloš Milivojević Accordion
"A superb and thrilling performance throughout using music, words, visuals, and fashion to paint a fascinating picture of this historic time."
Music at Malling Festival 2019
---
Concert Description
The relationship between Coco Chanel and Igor Stravinsky is one that is discussed as a constant source of fascination by historians, music/fashion experts, and more. The context of early 20th century Paris within which both artists lived, is of course regarded as one of the most exciting periods of creative output in the European artistic world.
Following on from Lizzie's fascinating and acclaimed audio-visual production on the life of Frida Kahlo last year, Lizzie presents the next chapter in the series, a concert which explores this fascinating part of musical and fashion history. Together with virtuoso accordionist Miloš Milivojević, they will perform music to include arrangements by the composer himself of The Firebird Ballet, Suite Italienne, whilst discussing the influence of Chanel, Stravinsky and other contemporaries of the vibrant Parisian Left Bank artistic scene of the early/mid 20th Century.
"A seamless exercise in musical enchantment"
The Independent
"Lizzie Ball has proved herself not only to be a first rate musician but also a brilliant producer who really knows how to give the audience huge pleasure"
Joyce Hytner OBE, Royal Court Theatre
"A hurricane of imaginative invention"
Hilary Finch, The Times
"Milivojević's artistry on the humble button accordion took the breath away"
Michael Church, The Independent
Lizzie Ball violin/vocalist
"Lizzie Ball lit the place on fire with her solos" San Francisco Chronicle
Born in Derbyshire, England and based in London, Lizzie Ball is a violinist, vocalist, concert producer, orchestra leader, and founder of Classical Kicks Productions.
Lizzie holds an MA in music from Cambridge University (St John's College), and postgraduate diplomas in solo performance from the Royal College of Music and Guildhall School of Music and Drama. Internationally in demand as a performer across classical, jazz and improvised music, Lizzie created and founded Classical Kicks Productions in 2012, initially as a residency at Ronnie Scott's Jazz club in Soho, in an ongoing mission to bring classical music to a wider audience in accessible, diverse venues and contexts. In 2018, she worked with theatre producer and director Emily Blacksell to create 'Corrido: A Ballad for the Brave' an immersive audio-visual journey about the life and times of Frida Kahlo and her contemporaries, featuring Lizzie's own compositions alongside Mexican and classical music pieces. The widely acclaimed premiere of 'Corrido' was in association with the V and A Museum's 2018 exhibition of Frida's own personal items and clothing, entitled 'Making Her Self Up'. In 2022, she collaborated with videographer Heather Britton on a large-scale audio-visual production about climate change with Harry Christophers and The Sixteen, entitled 'All the Ends of the World' in which Lizzie co-produced and performed an improvised violin part over renaissance choral music.
Alongside her own projects, Lizzie has a busy international freelance career as a solo performer and orchestra leader. Highlights of her work as a featured solo violinist include a European Stadium Tour with Hugh Jackman (orchestra leader for his 2019 tour 'The Man, The Music, The Show), Ariana Grande and Liam Gallagher. Lizzie was leader of Nigel Kennedy's handpicked 'Orchestra of Life' for 8 years.
Lizzie was announced as Guest Director of Mikroorkéstra in 2020, a young and dynamic chamber orchestra based in Lithuania and founded by her long-time colleague, accordion virtuoso Martynas Levickis. Lizzie's regular collaborators in Classical Kicks Productions include Gabriella Swallow (cello), Meghan Cassidy (viola), Bartek Glowacki (accordion), the James Pearson Trio with Sam Burgess and James Turner, and Miloš Milivojević (accordion).
In 2021, Lizzie was appointed Violin Professor for the Britten-Pears Foundation's acclaimed 'Aldeburgh Young Musicians' Scheme. She also qualified as an ICF accredited Transformational Life Coach and established her new business 'Set your Stage' to widen the possibilities of her work in creative mentor-coaching.
Lizzie has received support from major UK funding bodies including Arts Council England, PRS Foundation/Spotify fund, and most recently The Royal Philharmonic Society's Enterprise Award for 'Set your Stage'. In 2018, she was awarded an Honorary Masters MA degree from The University of Derby in 2018 in recognition of her innovative, creative approach to classical music.
Miloš Milivojević accordion
Award-winning accordionist Miloš Milivojević was born in Serbia. His versatility as a musician performing different genres including classical, tango and world music, has ensured he is in demand internationally.
Miloš studied in Kragujevac and won international competitions in Italy, Denmark, France and Germany before coming to London to study at the Royal Academy of Music. Whilst there, he won the prestigious Derek Butler Prize and began his mission to promote the accordion as an instrument in the concert hall. He has since given dozens of world premieres as well as first UK performances of works by composers including Howard Skempton, Ben Foskett, Elena Firsova and Luciano Berio.
Miloš's diverse musical commitments as a soloist, chamber musician and regular member of the London Tango Quintet, Kosmos Ensemble, Accord Duo and Balkan group Paprika have taken him to festivals across the UK, Russia, Slovenia, Hungary, Italy, Iceland, Serbia, Montenegro, Spain, the Canary Islands, Malta, Australia and New Zealand. His repertoire ranges from contemporary music with the London Sinfonietta to tangos on Strictly Come Dancing.
PRESENTED BY