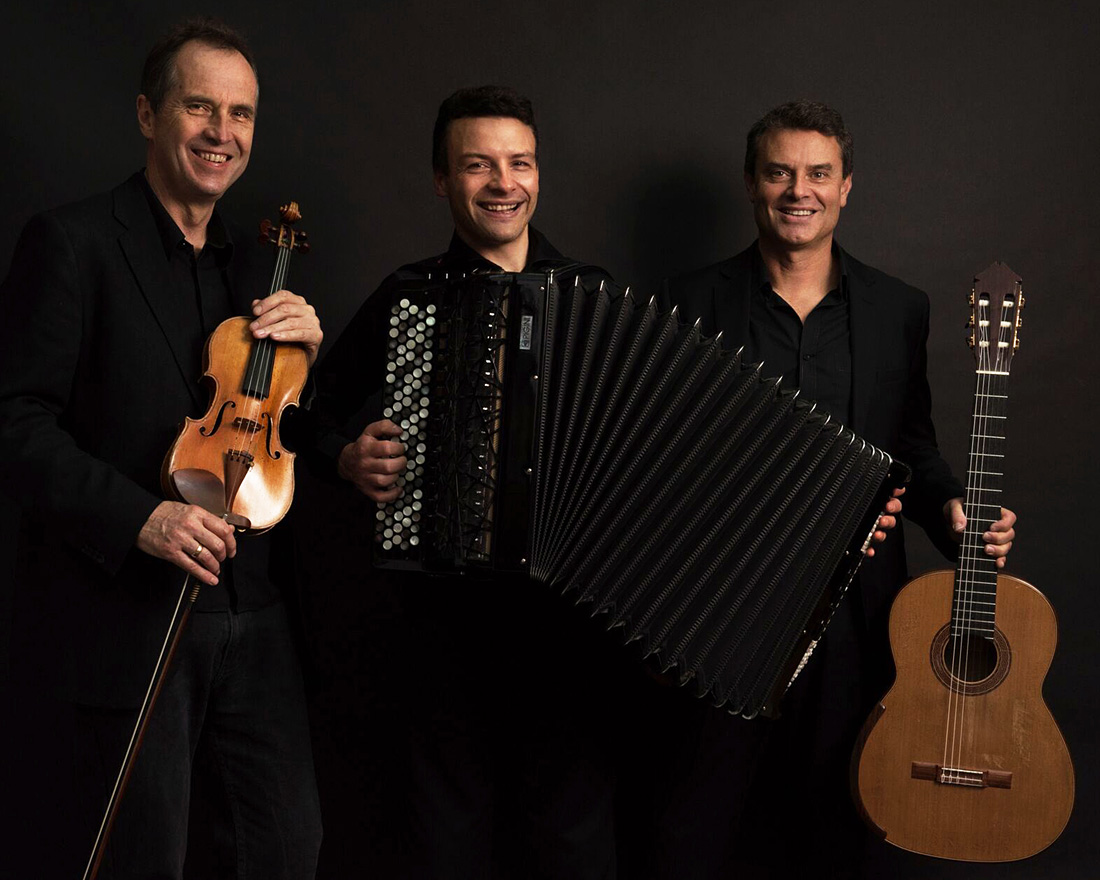 London Tango Trio
David Juritz Violin
Craig Ogden Guitar
Miloš Milivojević Accordion
"The London Tango Trio thrilled a packed audience at Swaledale Festival with an exhilarating and memorable performance. I look forward to a return visit."
Malcolm Creese, Artistic Director, Swaledale Festival
---
The London Tango Trio consists of three virtuoso players and was formed when David Juritz, Craig Ogden and Miloš Milivojević began exploring the extraordinary range available in the combination of their three instruments - violin, guitar and accordion. Read More
CONCERT DESCRIPTION
Starting with Bach and Couperin, their exuberant musical journey takes the audience on a 300-year tour of stunning arrangements of classical repertoire and into the world of traditional tango, capturing the passion and excitement in the milongas of Astor Piazzolla.
- Trio -
Five Pieces Francois Couperin 
Histoire du Tango Astor Piazzolla 
- Miloš Solo -
Asturias Isaac Albéniz
- Miloš & Craig -
Felix Tango Matteo Falloni 
Romanian Dances Bela Bartok
- David & Craig -
Moses Fantasy Nicolo Paganini 
Two Pieces Rodion Shchedrin
I In the Style of Albeniz
II Humoresque
- Craig Solo -
Sonata K380 Domenico Scarlatti 
Mangoré Vals Op.8 No. 4 Agustín Barrios 
- Trio -
Valse pour Margot Richard Galliano 
A Don Augustin Bardi Horacio Salgan 
Libertango Astor Piazzolla
"The London Tango Trio thrilled a packed audience at Swaledale Festival with an exhilarating and memorable performance. I look forward to a return visit."
Malcolm Creese, Artistic Director, Swaledale Festival
David Juritz: "aching lyricism … naked expression in the grip of an icy control."
The Strad Magazine
Craig Ogden: "a worthy successor to Julian Bream"
BBC Music Magazine
Miloš Milivojević: "a hurricane of imaginative invention"
Hilary Finch, The Times
The London Tango Trio consists of three virtuoso players and was formed when David Juritz, Craig Ogden and Miloš Milivojević began exploring the extraordinary range available in the combination of their three instruments - violin, guitar and accordion.
Read more about the trio below
David Juritz was born in Cape Town, South Africa, and began playing the violin at the age of five. He was awarded an Associated Board Scholarship to the Royal College of Music where he won the RCM's top award, the Tagore Gold Medal.
On leaving the RCM, he joined English Chamber Orchestra before being appointed leader of the London Mozart Players, a position he held until 2010. He made many appearances as soloist and director with the LMP, including his debut at the 2006 BBC Promenade Concerts.
In October 2019 he was invited to direct the English Chamber Orchestra at their debut in the Elbphilharmonie in Hamburg. Other performances have included appearances as soloist and director at the Tonhalle in Zurich, performances of the Beethoven and Brahms violin concertos in Tokyo, the Tchaikovsky concerto with the London Concert Orchestra at the Barbican, solos with the English Chamber and City of Birmingham orchestras, and the world premiere of Tales from South America, a tango concerto written for him by Cecilia McDowall. He has also led the orchestra on many film soundtracks including Long Walk to Freedom, The Theory of Everything and Last King of Scotland.
David's recording of the Vivaldi Four Seasons, re-released by Nimbus Alliance in 2012, was hailed by critics as one of the finest interpretations of that much-recorded work. David's recording of Bach's Sonatas and Partitas for Violin Solo, released on the same label in May 2011, was also warmly received.
In 2005, David took on the role of Director of the Burton Bradstock Festival in Dorset, where he presents unique programmes to capacity audiences and has developed a real musical community.
During a five-month sabbatical in 2007, David busked around the world. On the 60,000 mile journey through 50 cities in 24 countries on six continents, he paid for the entire journey with his busking earnings by playing Bach on the streets. He used the trip to raise funds for music education projects for disadvantaged children in developing countries. He remains deeply committed to encouraging young musicians in the developing world working in Kurdistan with young musicians from the National Youth Orchestra of Iraq and students at Xiquitsi in Maputo, Mozambique.
David is in demand as a chamber music artist and performs regularly with the London Tango Quintet, London Tango Trio, Craig Ogden (guitar), Miloš Milivojević (accordion), the Rasumovsky Ensemble, and the Soloists of London. He is also a prolific arranger and has arranged many substantial works for a wide variety of instrumental combinations, including music by Couperin and Debussy for the London Tango Trio and most recently, Bach's Goldberg Variations for guitar, violin and cello which he performs with Craig Ogden and Tim Hugh. David is regularly invited to perform on film and television soundtracks and his fleeting on-screen appearances include the award-winning drama series Downton Abbey and the film Youth starring Michael Caine.
David plays on a violin made by J.B. Guadagnini in Piacenza in 1748.
Australian born guitarist Craig Ogden is one of the most exciting artists of his generation. He studied guitar from the age of seven and percussion from the age of thirteen. He is the youngest instrumentalist to have received a Fellowship Award from the Royal Northern College of Music in Manchester.
One of the UK's most recorded guitarists, his recordings for Virgin/EMI, Chandos, Nimbus, Hyperion, Sony and Classic FM have received wide acclaim. Craig's five Classic FM albums all shot straight to No.1 in the UK classical chart and he is one of Classic FM's most played artists.
Craig Ogden has performed concertos with all the main UK orchestras plus many abroad. He regularly appears as soloist and chamber musician at major venues and collaborates with the UK's top artists and ensembles. Craig enjoys performing new works for guitar and gave the world premiere of a concerto written for him by Andy Scott with the Northern Chamber Orchestra in Manchester in November 2017, followed by the Australian premiere in Perth in September 2018. He gave the world premiere of 'Il Filo', a double concerto for guitar and accordion by David Gordon with Miloš Milivojević in summer 2019 and will give the world premiere of a concerto by David Knotts with the BBC Concert Orchestra at the Queen Elizabeth Hall, London in January 2021 which will be recorded by BBC Radio 3. He has presented programmes on BBC Radio 3, BBC Northern Ireland and ABC Classic FM (Australia).
Craig Ogden is Head of Guitar at the Royal Northern College of Music in Manchester, Adjunct Fellow of the University of Western Australia, Associate Artist of The Bridgewater Hall in Manchester, Curator of Craig Ogden's Guitar Weekend at The Bridgewater Hall, Director of the Dean & Chadlington Summer Music Festival and Visiting Musician at Oriel College, University of Oxford.
Award-winning accordionist Miloš Milivojević was born in Serbia. His versatility as a musician performing different genres including classical, tango and world music, has ensured he is in demand internationally.
Miloš studied in Kragujevac and won international competitions in Italy, Denmark, France and Germany before coming to London to study at the Royal Academy of Music. Whilst there, he won the prestigious Derek Butler Prize and began his mission to promote the accordion as an instrument in the concert hall. He has since given dozens of world premieres as well as first UK performances of works by composers including Howard Skempton, Ben Foskett, Elena Firsova and Luciano Berio.
Miloš's diverse musical commitments as a soloist, chamber musician and regular member of the London Tango Quintet, Kosmos Ensemble, Accord Duo and Balkan group Paprika have taken him to festivals across the UK, Russia, Slovenia, Hungary, Italy, Iceland, Serbia, Montenegro, Spain, the Canary Islands, Malta, Australia and New Zealand. His repertoire ranges from contemporary music with the London Sinfonietta to tangos on Strictly Come Dancing.
The versatility of Miloš's playing extends to working with leading opera companies and he is regularly invited to perform with Opera North, most recently in their production of Mozart's Magic Flute, Don Giovanni, Humperdinck's - Hansel and Gretel and Donizetti's Elixir of Love. In 2017 Miloš performed Brett Dean's new opera of Shakespeare's great tragedy, Hamlet, with Glyndebourne Opera's touring production.
In 2014, Miloš was elected an Associate of the Royal Academy of Music ARAM for his contribution to music. Miloš is extremely grateful to the Burton Bradstock Festival for generous support towards his professional music career. He is an official artist and exclusively performs on Pigini Accordions. Miloš's debut solo CD "Accord for Life" is available on the Nimbus label.