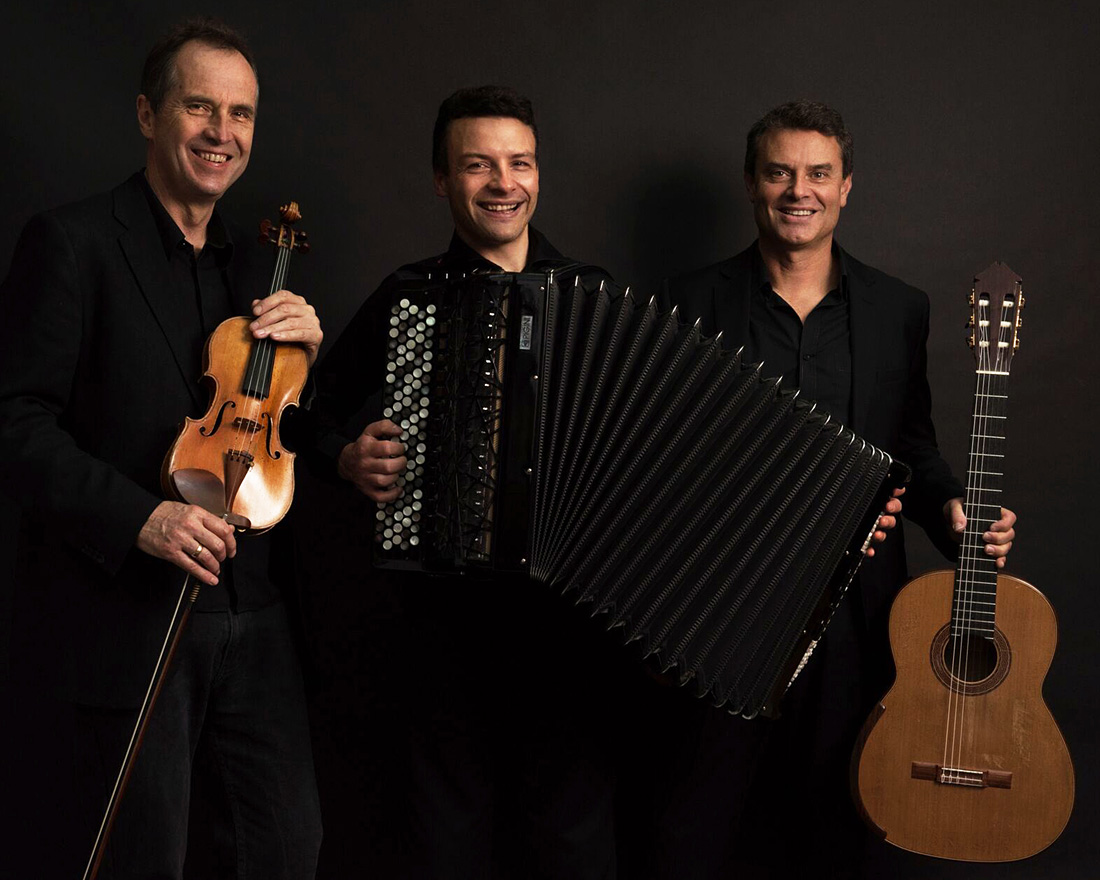 London Tango Trio
David Juritz Violin
Craig Ogden Guitar
Miloš Milivojević Accordion
"The London Tango Trio thrilled a packed audience at Swaledale Festival with an exhilarating and memorable performance. I look forward to a return visit."
Malcolm Creese, Artistic Director, Swaledale Festival
---
The London Tango Trio consists of three virtuoso players and was formed when David Juritz, Craig Ogden and Miloš Milivojević began exploring the extraordinary range available in the combination of their three instruments - violin, guitar and accordion. Read More
CONCERT DESCRIPTION
Starting with Bach and Couperin, their exuberant musical journey takes the audience on a 300-year tour of stunning arrangements of classical repertoire and into the world of traditional tango, capturing the passion and excitement in the milongas of Astor Piazzolla.
- Trio -
Five Pieces Francois Couperin 
Histoire du Tango Astor Piazzolla 
- Miloš Solo -
Asturias Isaac Albéniz
- Miloš & Craig -
Felix Tango Matteo Falloni 
Romanian Dances Bela Bartok
- David & Craig -
Moses Fantasy Nicolo Paganini 
Two Pieces Rodion Shchedrin
I In the Style of Albeniz
II Humoresque
- Craig Solo -
Sonata K380 Domenico Scarlatti 
Mangoré Vals Op.8 No. 4 Agustín Barrios 
- Trio -
Valse pour Margot Richard Galliano 
A Don Augustin Bardi Horacio Salgan 
Libertango Astor Piazzolla
"The London Tango Trio thrilled a packed audience at Swaledale Festival with an exhilarating and memorable performance. I look forward to a return visit."
Malcolm Creese, Artistic Director, Swaledale Festival
David Juritz: "aching lyricism … naked expression in the grip of an icy control."
The Strad Magazine
Craig Ogden: "a worthy successor to Julian Bream"
BBC Music Magazine
Miloš Milivojević: "a hurricane of imaginative invention"
Hilary Finch, The Times
The London Tango Trio consists of three virtuoso players and was formed when David Juritz, Craig Ogden and Miloš Milivojević began exploring the extraordinary range available in the combination of their three instruments - violin, guitar and accordion.
Read more about the trio below