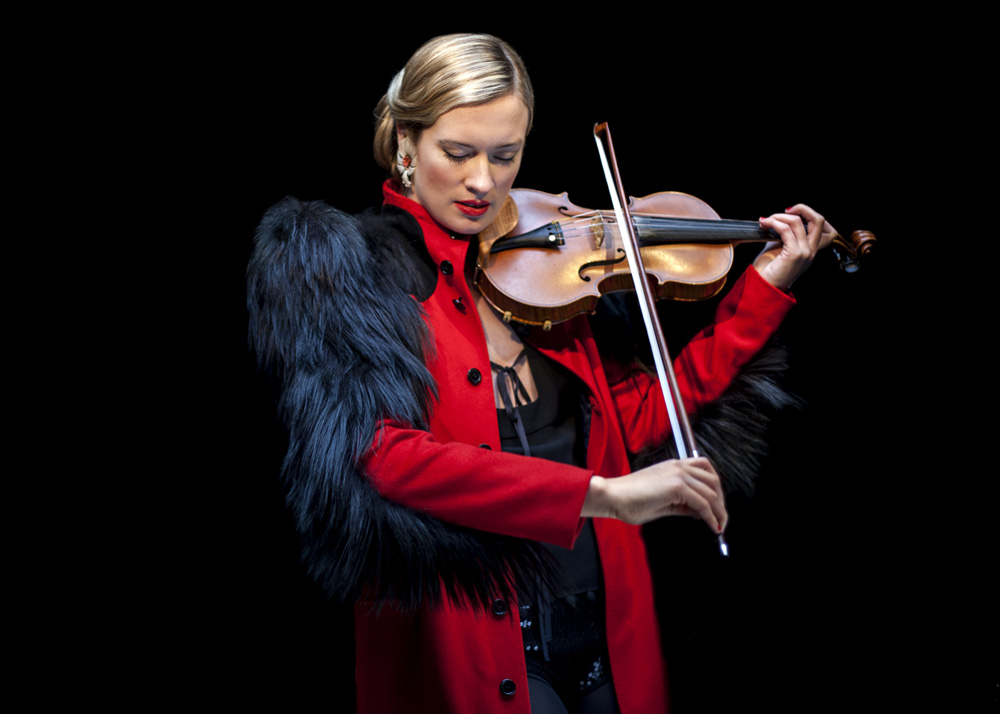 Lizzie Ball
Violin, Vocals, Creative Producer
"She set the place on fire with her solo performance"
San Francisco Chronicle
---
Born in Derbyshire, England and based in London, Lizzie Ball is a violinist, vocalist, concert producer, orchestra leader, and founder of Classical Kicks Productions.  Read More
"Lizzie Ball's impressive command of these moments added a real force to the programme and helped to create this thoroughly unique tone." Read full review. 
All the Ends of the World with The Sixteen
"A seamless exercise in musical enchantment"
The Independent
"Classical Kicks is excellent. Lizzie Ball has proved herself to be not only a first rate musician but also a brilliant producer who really knows how to give the audience huge pleasure"
Joyce Hytner OBE, The Royal Court Theatre
"If  the daunting pin-drop silence of a classical auditorium is lacking, the audience at Classical Kicks still listens with the respectful and focused hush of a jazz club"
Classical Music Magazine UK
Born in Derbyshire, England and based in London, Lizzie Ball is a violinist, vocalist, concert producer, orchestra leader, and founder of Classical Kicks Productions.
Lizzie holds an MA in music from Cambridge University (St John's College), and postgraduate diplomas in solo performance from the Royal College of Music and Guildhall School of Music and Drama. Internationally in demand as a performer across classical, jazz and improvised music, Lizzie created and founded Classical Kicks Productions in 2012, initially as a residency at Ronnie Scott's Jazz club in Soho, in an ongoing mission to bring classical music to a wider audience in accessible, diverse venues and contexts. Classical Kicks Productions have recently extended to include innovative performances that deliver immersive audio-visual impact. Her co-creation with fellow female creative, Emily Blacksell, 'Corrido: A Ballad for the Brave' is an immersive audio-visual journey about the life and times of Frida Kahlo and her contemporaries, featuring Lizzie's own compositions alongside Mexican and classical music pieces. Paired with originally created animated film and video design, 'Corrido' is a unique collaboration of an extraordinary team of creatives and musicians. The widely acclaimed premiere of 'Corrido' was in association with the V and A Museum's 2018 exhibition of Frida's own personal items and clothing, entitled 'Making Her Self Up'. Other productions include a fully immersive version of Schoenberg's 'Verklarte Nacht', using animated film and performed in almost complete darkness, a project premiered in Vilnius, Lithuania together with Mikroorkéstra. In 2022, she collaborated with videographer Heather Britton on a large-scale audio-visual production about climate change with Harry Christophers and The Sixteen, entitled 'All the Ends of the World' in which Lizzie co-produced and performed an improvised violin part over renaissance choral music.
Alongside her own projects, Lizzie has a busy international freelance career as a solo performer and orchestra leader. Highlights of her work as a featured solo violinist include the European Stadium Tour with Hugh Jackman (orchestra leader for his 2019 tour 'The Man, The Music, The Show), Ariana Grande, Liam Gallagher, Jeff Beck (US wide arena tour and Crossroads Festival 2013 Madison Square Garden), Brian Wilson (US wide tour), and with Grammy-award winning choir New York Polyphony.
Lizzie was leader of Nigel Kennedy's handpicked 'Orchestra of Life' for 8 years from 2010, and during this time, they toured Europe extensively including a performance at the BBC Proms in 2013 with the Palestine Strings, an historic moment in the Proms history. Lizzie also performed duet solo concertos with Nigel during this time in major venues across the UK.
Lizzie was announced as Guest Director of Mikroorkéstra in 2020, a young and dynamic chamber orchestra based in Lithuania and founded by her long-time colleague, accordion virtuoso Martynas Levickis. Lizzie's regular collaborators in Classical Kicks Productions include Gabriella Swallow (cello), Meghan Cassidy (viola), Bartek Glowacki (accordion), the James Pearson Trio with Sam Burgess and James Turner, and Miloš Milivojević (accordion).
In 2021, Lizzie was appointed Violin Professor for the Britten-Pears Foundation's acclaimed 'Aldeburgh Young Musicians' Scheme. As well as working with young musicians internationally, Lizzie has also become Ambassador for PRISMA, a charity founded by her colleague Morgan Szymanski to help children in need in Mexico by providing arts workshops to rural underdeveloped areas of Mexico. So far the project has reached over 20,000 children in just 5-6 years of existence.
During lockdown in 2020/21, Lizzie invested her time in an additional long-held ambition to qualify as an ICF accredited Transformational Life Coach with Animas Coaching. Her new business 'Set your Stage' aims to combine her career in music and her life experience together with this new skill in order to help young people, business professionals and creatives around the world with their skills in leadership, performance, and mindset- both in music and otherwise.
Lizzie was recognised as one of the UK's most inspirational females in a list of 50 outstanding UK women making an impact, in a feature run by the UK national newspaper The Daily Mail. Lizzie is the recipient of many other awards including an Honorary Masters MA degree from The University of Derby in 2018 in recognition of her innovative, creative approach to classical music, as well as support from major UK funding bodies Arts Council England, PRS Foundation/Spotify fund, and most recently The Royal Philharmonic Society's Enterprise Award, for 'Set your Stage'.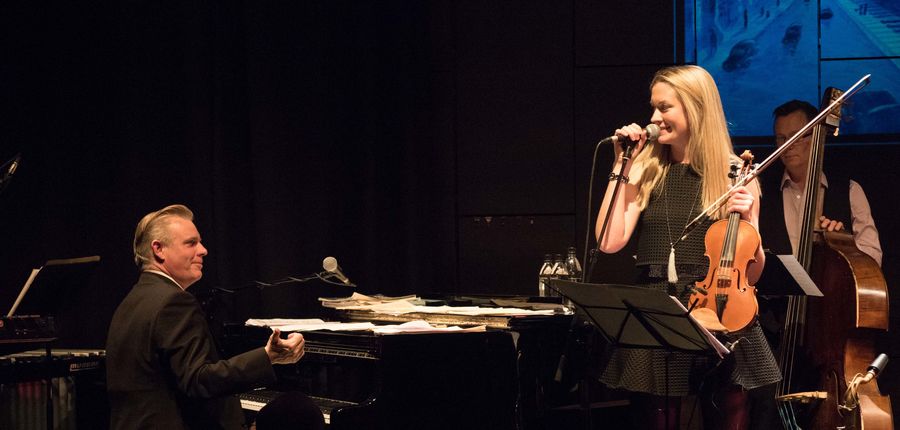 Lizzie Ball & James Pearson
"Encounters with Gershwin"
A musical and storytelling exploration of the relationships and fascinating encounters between Gershwin and his contemporaries.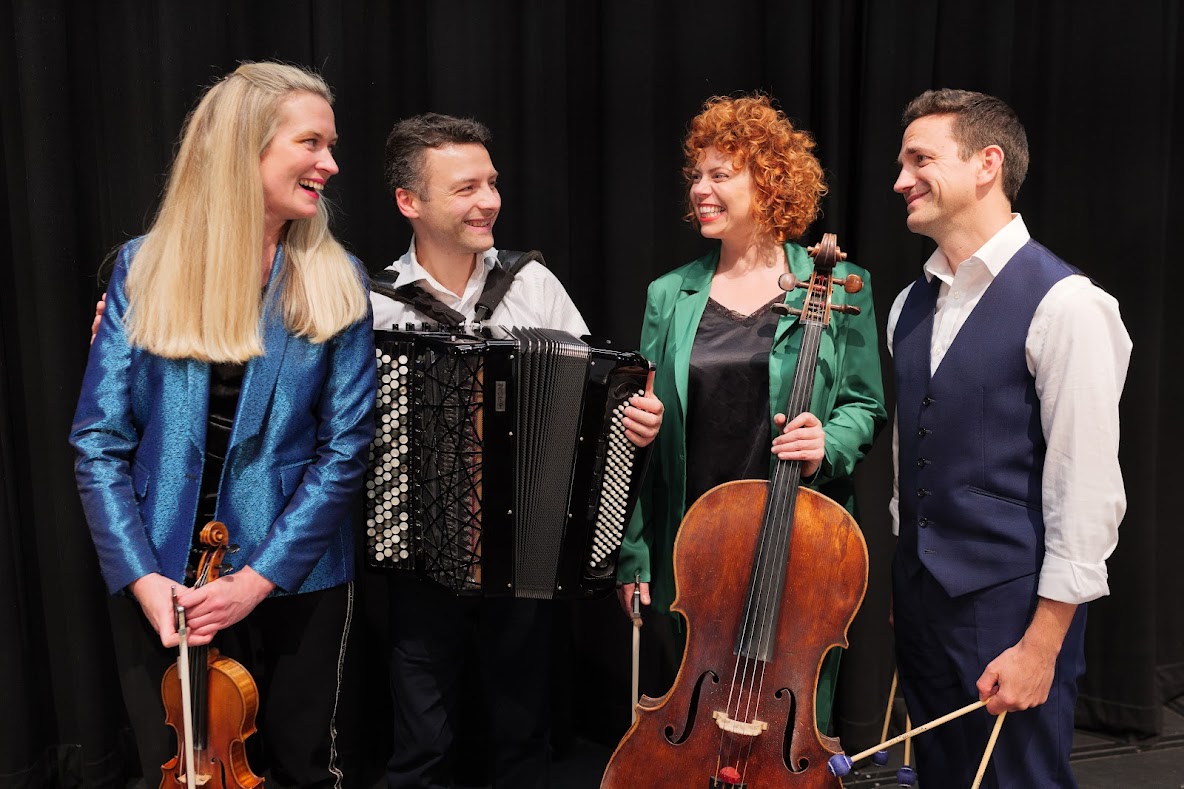 Classical Kicks Ensemble
Lizzie Ball - Violin/Vocals/Creative Director
Miloš Milivojević - accordion
Gabriella Swallow - cello
James Turner - percussion
Also available as a quintet with special guest James Pearson - piano
Created and founded by Lizzie Ball, The Classical Kicks​ Ensemble was formed from the success of the numerous Classical Kicks resident live concerts held at London's iconic Ronnie Scott's Jazz club between 2012-2020. During this residency, Lizzie combined a wide range of music and musicians from string quartets to beat boxing flute players. Collaborations with artists included a unique programme of plain chant and Purcell with The Sixteen choir, performed alongside arrangements of works by Oscar Peterson. The Classical Kicks Ensemble perform a programme of primarily classical music, flavoured with pieces from world, folk, bluegrass, and jazz musical genres, all presented in Lizzie's warm and informal style with a storytelling approach and audience engagement at the fore. The core quartet of players are in demand on the international stage and each have the unique ability to improvise as well as perform core classical repertoire.