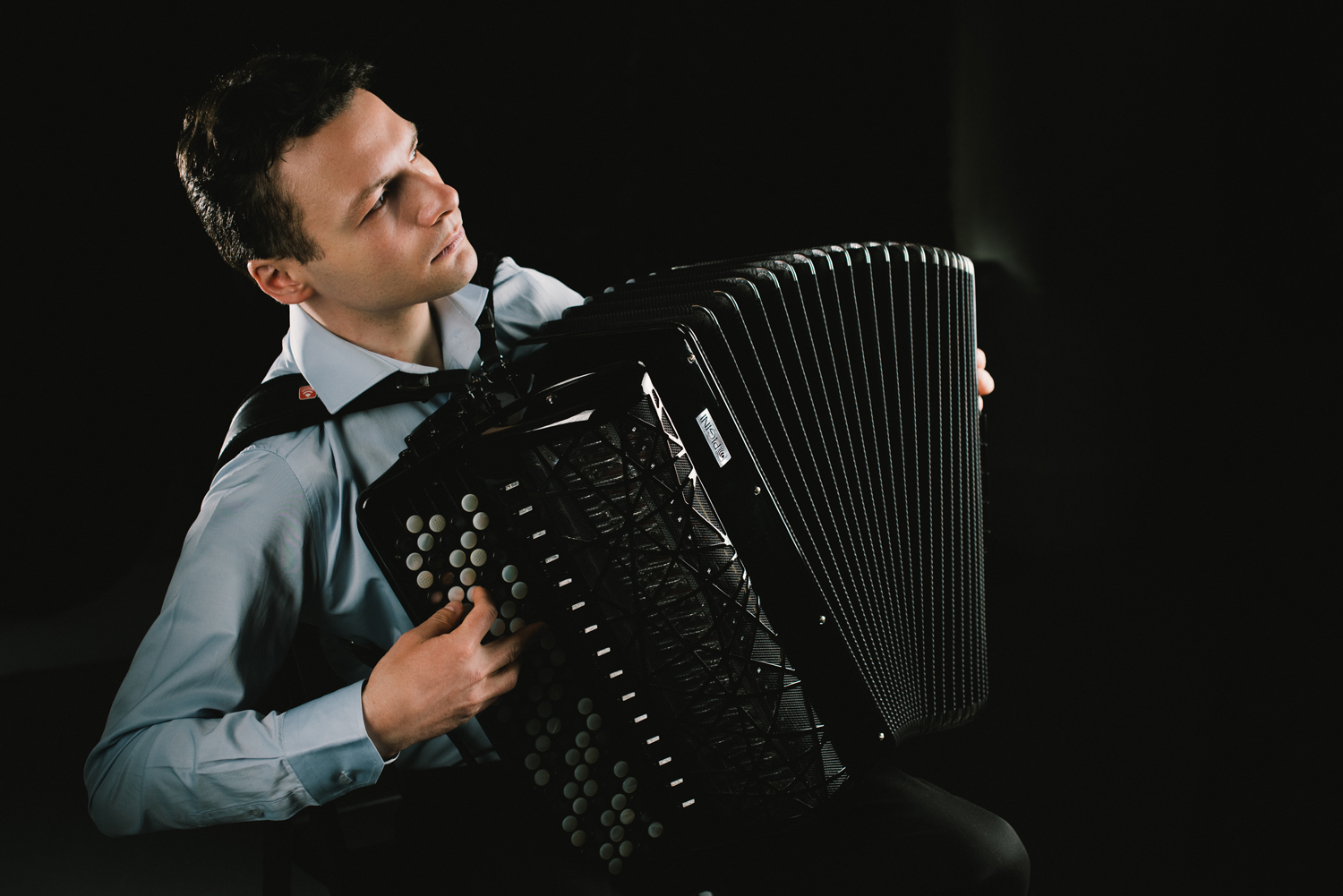 Miloš Milivojević
Classical Accordion
"Milivojevic's artistry on the humble button accordion took the breath away"
THE INDEPENDENT
---
Award-winning Serbian born Miloš Milivojević is one of the most exciting classical accordionists of his generation. His versatility as a musician performing different genres including classical, tango and Balkan music, has ensured he is in demand throughout the UK and abroad. Read More
Giles Woodford, The Oxford Times
"Was it the unusual combination of composers, or the even more unusual combination of instruments? Or maybe both? Either way, I wasn't the only one to be attracted by the first concert in Iffley Music Society's new season — the Church Hall was packed.
First up was violinist Harriet Mackenzie playing Bach's Sonata in G major, BWV 1021. Nothing strange about that, but have you heard it accompanied by classical accordion? Milos Milivojevic made the combination sound entirely natural, his accordion sounding exactly like a chamber organ in the Andante and Adagio movements, while the interleaving pair of Allegros brought out the instrument's more usual dance-accompaniment qualities. Meanwhile Mackenzie spun a broad and expressive violin line over the top.
Michael White, Telegraph
There comes a point as you get older and your sense of passing time contracts, when life seems to be nothing but Christmas and summer in relentless alternation. It ought to be a happy thought, but somehow isn't. And I was thinking it as I filed my summer festivals round-up for last Saturday's Telegraph travel pages.
But the real boat-pushing came with the yacht concert. The idea was for a violin and accordion duo – the brilliantly versatile Harriet Mackenzie and Milos Milivojevic who play everything from Bach to Bartok, Piazzolla tangos, Balkan tear-jerkers, you name it, with extraordinary verve – perched precariously on the back of a tug-boat while other vessels gathered alongside as their audience."
"Classical music has always benefited from the largesse of those who have made their money in non-musical ways, but for young musicians, such sources are now more crucial than ever. The late Derek Butler, who made his fortune manufacturing Nigerian headdresses, is posthumously supporting a huge array of ventures, including the musical prize that bears his name. Now in its second year, it goes to the best postgrad candidate fielded by London's four conservatoires, with a Wigmore Hall concert as the play-off.
If one of this year's four has some way to go, the other three, on the basis of these performances, should each make a debut disc forthwith. The 24-year-old Alissa Tavdidishvili Turgeneva hails from that cradle of great pianism, Tbilisi, and she produced a muscular cantabile in the old Soviet style. But by applying it in turn to works by Scarlatti, Chopin, Rachmaninov, and Scriabin, her strange achievement was to make them all inhabit the same sound-world, a limitation she must urgently address.
No praise can be too high, however, for the American cellist Bartholomew LaFollette, the Russian violinist Dunja Lavrova, and the extraordinary Serbian accordionist Milos Milivojevic, who finally scooped the pool.
LaFollette opened with pellucid Fauré, followed by a toweringly authoritative unaccompanied Bach prelude. His rendering of Tchaikovsky's Pezzo capriccioso moved from a quintessentially Russian expressiveness to an assured virtuosity few top-flight cellists could have matched.
Lavrova opened with a much-played Brahms movement whose Romanticism demands power and control – the very qualities she brought to it. Her second piece was a pseudo-baroque pastiche by Huw Watkins, and her last was Ravel's Tzigane, in which she proved herself on a level with the great fiddlers of the past.
But Milivojevic's artistry on the humble button accordion took the breath away – indeed, his coruscating transcription of an organ chorale by Mendelssohn made one almost wonder whether we actually need those thundering giants. I'd put money on this brilliant young performer opening a whole range of new musical worlds."
Michael Church, Independent
"This year's week-long voyage into the unknown began with an immediate and thrilling sighting: a 19-year's old Serbian accordion player called Milos Milivojevic, playing four outstanding and virtuoso new works for the instrument - and all from memory.
Even the classical accordion, the Rolls Royce of squeeze-boxes, carries within it both the compressed, manic energies and the melancholy of the world's popular music's, its tangos and its secret tendresses. Luciano Berio in 1995 packed it all into his Sequenza No13.
And scarcely eight months after the composer's death, it was moving to hear the work's UK premiere at last, its shuddering and fluttering chords, its dramatically inflected timbres and its subtle oscillations of breath and reverberation minutely controlled by Milivojevic. Anthony Gilbert's Rose Luisante for solo classical accordion, written just last year, received its world premiere from Milivojevic, as a Park Lane Group commission.
The inspiration here is purely and seductively visual: Gilbert's responses to the light diffusion and the intricate form or the western Rose Window of Bayeux Cathedral have natural a ten-minute piece of beguiling beauty, its slowly refracting harmonies sensuous, its variations an a curling chant haunted by Eastern modes and spectral, toccata-like dances. The Twin Set and Pearls belonged to Howard Skempton: seven tiny, disarmingly simple variation miniatures. And Milivojevic ended the evening with Magnus Lindberg's magnificent Jeux D'anches: wind through the reeds, as it were, growing to a hurricane of imaginative invention."
Hilary Finch, The Times
Award-winning Serbian born Miloš Milivojević has been described as "A hurricane of imaginative invention" by Hilary Finch, The Times. His versatility as a musician performing different genres including classical, tango and world music, has ensured he is in demand internationally. Miloš is a first prizewinner at international accordion competitions in Germany (Klingental), France (Grand Prix), Italy (Castelfidardo) and Denmark (Diremose Prisen).
Miloš studied with Vojin Vasović and Radomir Tomić in Serbia and was awarded a full scholarship from the Royal Academy of Music (RAM) for Undergraduate, Postgraduate and Master degrees studying with Professor Owen Murray. During his studies, Miloš became the first accordionist ever to win the RAM Club Prize open to all instrumentalists and was the winner of the prestigious Derek Butler London Prize at the Wigmore Hall, contested by students from all four of the London conservatoires. At graduation, Miloš was awarded a Distinction and the Vice Principal's Special Prize at the Royal Academy of Music.
Miloš has performed at venues including the Royal Albert Hall, Wembley Arena, Birmingham Symphony Hall, Sydney Opera House, Muziekgebouw, Wigmore Hall, Cadogan Hall, Kings Place, Purcell Room, Snape Maltings and as soloist at the RAM Foundation Day Awards Ceremony before HRH The Princess Royal. He has given recitals at many prestigious classical and world music festivals across the UK, Russia, Slovenia, Hungary, Italy, Iceland, Montenegro, Spain, Portugal, Canary Islands, Netherlands, Malta, Cuba, Australia and New Zealand.
The versatility of Miloš's playing extends to working with leading opera companies including Opera North and Opera Holland Park. In 2017, Miloš performed Brett Dean's new opera of Shakespeare's great tragedy, Hamlet, with Glyndebourne Opera's touring production. In 2018 and 2019 Miloš appeared with the BBC Singers and Rias Kammerchor and has given accordion masterclasses in Serbia, Portugal and Scotland.
Miloš has also appeared with the London Mozart Players, Russian Virtuosi, London Sinfonietta, Filharmonika Orchestra, Chroma Ensemble and the Chorus of Opera North. Live broadcasts include BBC Radio, Classic FM, ABC and the Serbian national radio and television networks. Miloš is a member of the London Tango Quintet, Kosmos Ensemble, AccordDuo and the Balkan group Paprika and he regularly performs with guitarist Craig Ogden and violinist David Juritz.
Miloš has premiered works and collaborated with British composers including Anthony Gilbert, Howard Skempton, Elena Firsova, Patrick Nunn, Ben Foskett, Julian Philips, Anna Meredith, Philip Venables, Bushra El-Turk, Errollyn Wallen and gave the UK premiere of Sequenza No.13 by Luciano Berio. His playing is featured on the award-winning Bollywood movie 'Barfi' and he has performed tango live in front of millions on the BBC's Strictly Come Dancing TV programme.
In 2014, Miloš was elected an Associate of the Royal Academy of Music ARAM for his contribution to music. He is an official artist and exclusively performs on Pigini Accordions. Miloš's debut solo CD "Accord for Life" is available on the Nimbus label.